Our program is organized in accordance with the test outline supplied by PSI Services, LLC. We provide to-the-point study materials that cover the material on the test in the order supplied in the PSI Services test outline. As indicated below, the questions on the state exam are not uniformly distributed across the subject material of the course. By arranging the course of instruction along the outline supplied by PSI Services, students are able allocate study time efficiently to master the most important areas first.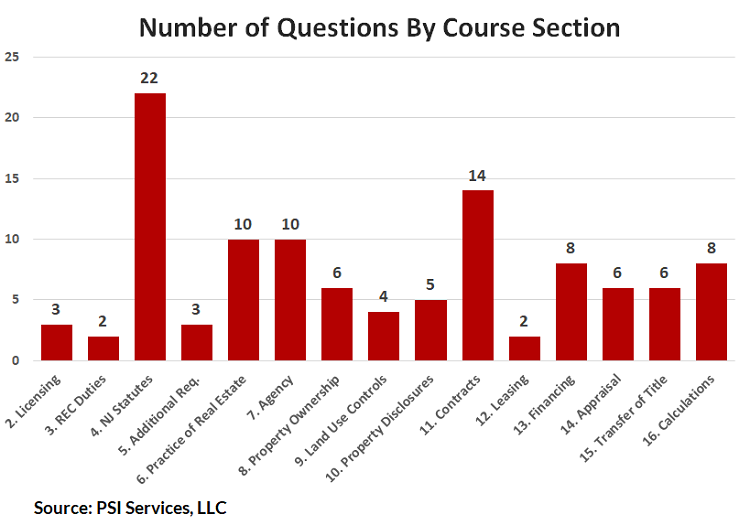 Likewise, organizing the course in this way helps students who fail the test to focus on areas where test performance was weak in order to pass the exam on the next attempt.
Likewise, our materials are designed to facilitate learning. Most schools teach pre-license courses right out of a 500 page real estate text. We provide easy to read notes for each section of the course along with slides and end of section study questions. Our materials make it simple for students to review the subject matter multiple times in order to facilitate recall.
We provide extensive progress testing through-out the five-week course to provide realistic feedback to students on their progress. This affords valuable practice in answering questions in a multiple choice test and allows our students to gain an advantage.
Key learning resources are included in the price of the course. These materials include:
2,000+ flip-cards covering vocabulary and real estate concepts;
2,000+ study questions (approximately 100 questions per section);
Solved real estate math questions covering all the problem types on the state exam;
Remedial math video series;
Our pre-license course is taught Monday, Wednesday and Friday in five-hour increments. The 75-hour course lasts for five weeks. Students can attend either the morning session from 9:00 am to 2:00 pm or the evening session from 5:30 pm to 10:30 pm. Each session is led by an instructor via Zoom. We strive to maintain an interactive, immersive learning environment for our students.